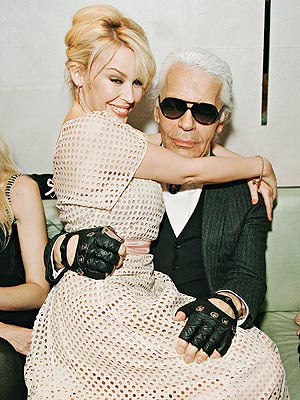 The world's largest beverage company meets one of Fashion most iconic men and you have a beverage so stylish you don't want to drink it. Designer Karl Lagerfield has teamed up with giant brand Coca-Cola to produce a limited edition of Coca-Cola light available in France.
Who better to front the new Coca-Cola design than the man who said himself "Fashion is the healthiest motivation for losing weight". Lagerfield is a huge fan of diet Cola and told Womenswear Daily that he 'prefers to drink it in a delicate crystal goblet to accentuate the taste'.
The sophisticated bottled beverage features a simple pink, white and black design. A white bottle with a hot pink aluminium cap, with Lagerfield's distinguishable silhouette (pointy shoes, black suit with high white collar and recognizable ponytail) and signature printed on. Even more appealing is the cute box set available, designed to look like a closet open it up and theirs your drink, open the small drawer an inside you'll find a bottle opener to open your drink.

What's more impressive is that Lagerfield has also designed the advertising campaign to accompany the limited- edition drink. The ad features the designers favourite models; Coco Rocha dressed in a Lagerfield inspired white button down and black neck tie with cute balck polkadot shorts (all from the designers Spring collection) whilst being served Coca-Cola by Baptiste Giacobini.

The box set will be available from the 24th of April from French boutique Colette for 60 euros or 3.50 euros for a bottle. Available to order now www.colette.fr
A zero calorie drink designed by a fashion legend is always going to prove a successful collaboration.

The fashion world is rife with designer collaborating with different products Manish Arora and Nivea, Emanuel Ungaro and Mac, Christian Audigier wine, Marni and Ladurée's macaroons, Roland Mouret and Grey Goose.. What next ?